VitaDairy, a key player in the dairy industry, has been dedicated to providing nutritious and high-quality dairy products to its customers. With a commitment to innovation, VitaDairy constantly strives to introduce new and beneficial products to the market. One such product is "Colos Gain," a revolutionary addition to their product line aimed at promoting weight gain while boosting immune health.
Hours delivered back to the business
SOX compliance in Settlement process automation
Success rate of bot case completion
For functional release of OBT, RTS and OGS
VitaDairy faced the challenge of effectively introducing "Colos Gain" to their target audience. They aimed to increase trial rates, drive engagement, and gather accurate customer information. Additionally, they sought to educate their customers about the nutritional benefits of "Colos Gain."
Introducing "Tăng Cân Nhanh, Miễn Dịch Khoẻ" (Gain Weight Quickly, Strong Immunity) – a captivating campaign designed to achieve VitaDairy's objectives. Leveraging the popularity of match-3 games, reminiscent of Candy Crush, we deployed this engaging game on Zalo, a widely used social media platform in Vietnam.
Interactive Match-3 Game: We developed a match-3 game where players could match colorful icons representing "Colos Gain" products. Playing this game was not only entertaining but also educational, as each match triggered informative pop-ups about the product's nutritional values.
Leaderboard and Rewards: Players were encouraged to play and climb the leaderboard, competing with friends and other participants. Achieving higher scores earned them exciting rewards and incentives directly from the VitaDairy brand.
Customer Information Collection: To ensure accurate customer information, participation in the game required users to provide essential details, allowing VitaDairy to build a comprehensive customer database for future engagement.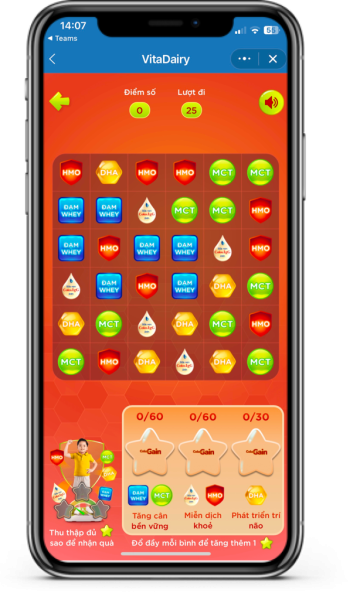 The technology that we use to support the project ​
Zalo Platform Integration
Customer Data Collection Mechanism
Leaderboard and Rewards System
Ready to reduce your technology cost?