VPBank, a pioneering force in the Vietnamese banking sector, has been a steadfast partner in its customers' financial journeys. Committed to innovation and customer-centricity, VPBank continually seeks new ways to enhance banking experiences and drive financial prosperity. In a competitive landscape, VPBank aimed to boost customer engagement, and in-app activities.
Hours delivered back to the business
SOX compliance in Settlement process automation
Success rate of bot case completion
For functional release of OBT, RTS and OGS
VPBank faced the challenge of revamping its customer engagement strategy and incentivizing customers to use its digital banking services. The goal was clear: foster deeper engagement, and drive in-app activities. In addition, rather than using the same old boring interactive activity of opening the red envelope on the phone, VPBank wanted to use a different, user-friendly, and interesting interactive type in the game.
Introducing "Trao Thịnh Vượng, Fast Lì Xì" – an innovative campaign that transformed banking interactions into a thrilling adventure, akin to the classic game Gold Miner. The project tagline, "Trao Thịnh Vượng, Fast Lì Xì," encapsulates VPBank's multifaceted approach. "Trao Thịnh Vượng" translates to "Bestowing Prosperity", which reflects the bank's commitment to empowering customers with financial prosperity. "Fast Lì Xì" emphasizes the speed and convenience offered by VPBank's digital solutions during Tet, a time when traditional red envelope gifting ("Lì Xì") is prevalent. This tagline not only embraces Tet traditions but also highlights VPBank's NEO app, portraying it as a swift and convenient avenue for financial transactions during the festive season. Overall, the tagline succinctly conveys VPBank's brand values, Tet spirit, and the digital prowess of the NEO app, aligning them seamlessly within a single campaign.
We harnessed the VPBank NEO app to create an engaging and rewarding experience:
Gold Miner-Inspired Game: We integrated a game within the VPBank NEO app, closely resembling the popular Gold Miner game, which has not only already been popular but also can provide a new and interesting interactive experience for the app users. Customers could play this interactive game and win instant rewards.
In-App Activities: Playing the game and engaging with other features in the app earned customers points and rewards. These points encouraged customers to explore the app's functionalities and conduct banking activities.
Red Envelope Bonanza: The campaign featured a "Fast Lì Xì" mechanism, where customers could receive surprise red packets (lì xì) with attractive monetary rewards upon completing specific in-app actions.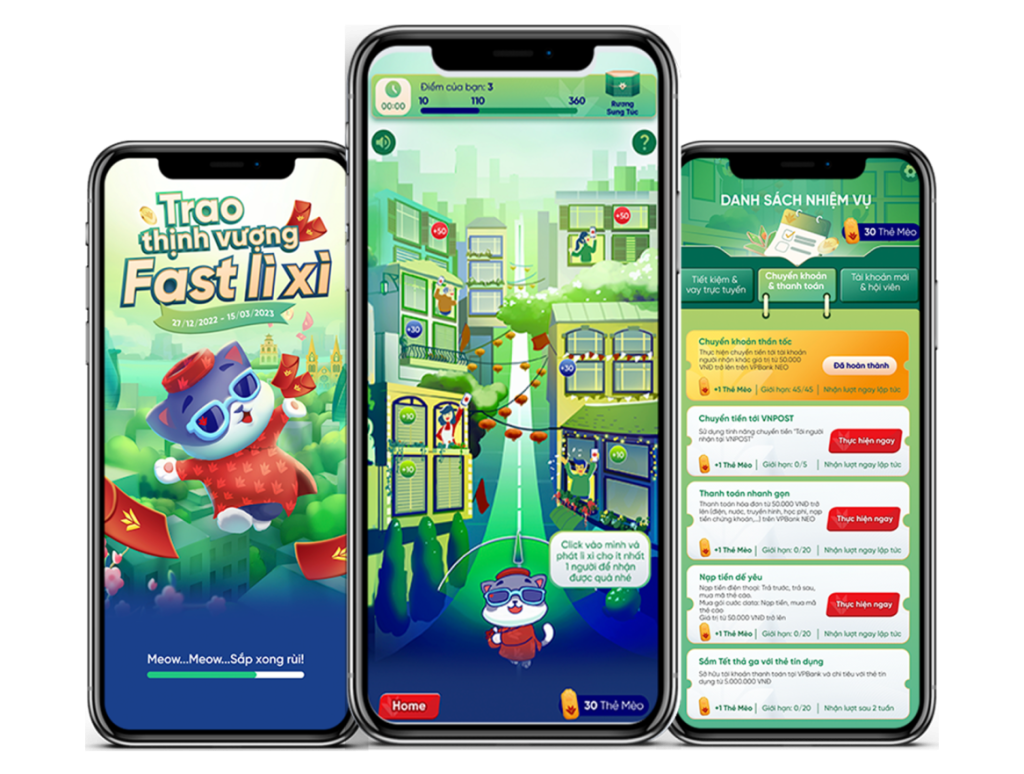 The technology that we use to support the project ​
Analytics and Data Tracking
Ready to reduce your technology cost?