For over three decades, Techcombank has been a pioneering force in Vietnam's banking sector, committed to fostering growth, prosperity, and financial well-being. Constantly innovating, Techcombank embarked on a digital transformation journey to deliver seamless customer experiences online and offline. Their dedication to innovation led to the creation of their first gamification campaign, "Khai Lễ Đại Cát."
Hours delivered back to the business
SOX compliance in Settlement process automation
Success rate of bot case completion
For functional release of OBT, RTS and OGS
Techcombank faced the critical challenge of bolstering their Current Account Savings Account (CASA) numbers, a pivotal goal to maintain and elevate their financial stability. Additionally, they aimed to enhance customer engagement, awareness, and retention, stand out from competitors, and attract new customers to further solidify their position in the market during the Tet holiday.
Introducing "Khai Lễ Đại Cát" (Prosperity Unveiled) – a groundbreaking gamification campaign embedded within the Techcombank Mobile app. The campaign utilized two engaging games: the Lucky Box and Lucky Number, strategically designed to encourage CASA growth and achieve other campaign goals.
Mechanism and Design: We revolutionized user engagement and CASA growth through strategic mechanisms and design. Daily, weekly, monthly, and mega prizes, and surprise elements in the Lucky Box and Lucky Number games enticed users to regularly interact with the Techcombank Mobile app. Direct deposit of rewards into CASA promoted financial activity, while real-time leaderboards fueled competition. This user-centric design not only increased engagement and CASA growth but also enhanced brand loyalty and attracted new users, marking a transformative success in the banking sector's gamification landscape. Techcombank continues to lead with innovation, driving exceptional customer experiences and industry recognition.
Interactive luck-based games: Users could participate in these interactive games through the Techcombank Mobile app. The Lucky Box offered surprise rewards and incentives to users, while the Lucky Number game engaged customers in predicting and winning based on lucky numbers.
Promoting CASA Growth: Participation and successful engagements in the games rewarded users with bonuses and benefits directly deposited into their CASA. This innovative approach aimed at enhancing CASA numbers and encouraging financial activities within the bank.
Enhanced Customer Engagement: The interactive and rewarding games captivated users, fostering a deeper level of engagement within the Techcombank community.
Competitive Differentiation: Being the first gamification campaign in the banking sector, "Khai Lễ Đại Cát" set Techcombank apart from competitors, showcasing their innovative edge and customer-centric approach.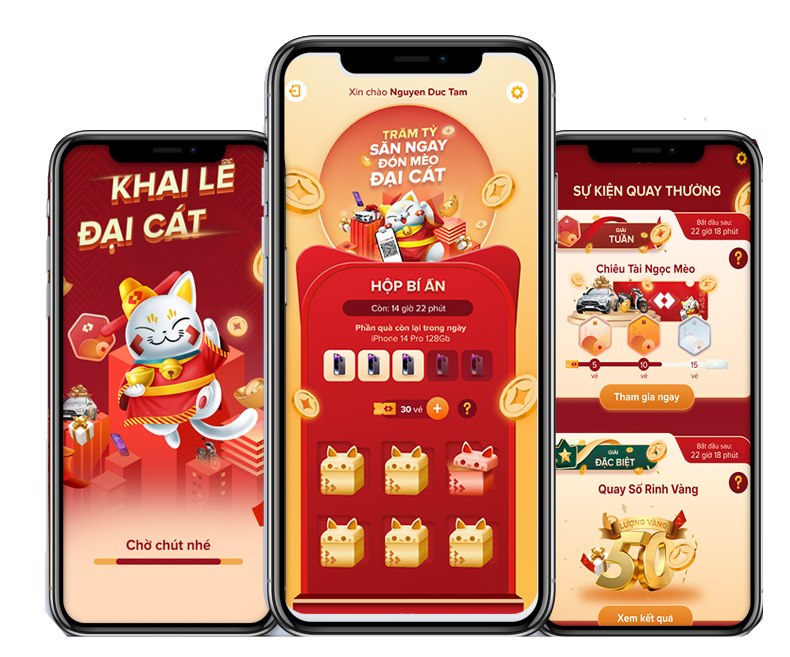 The technology that we use to support the project ​
Integration within Techcombank Mobile App
Analytics and Data Tracking
Ready to reduce your technology cost?